About this event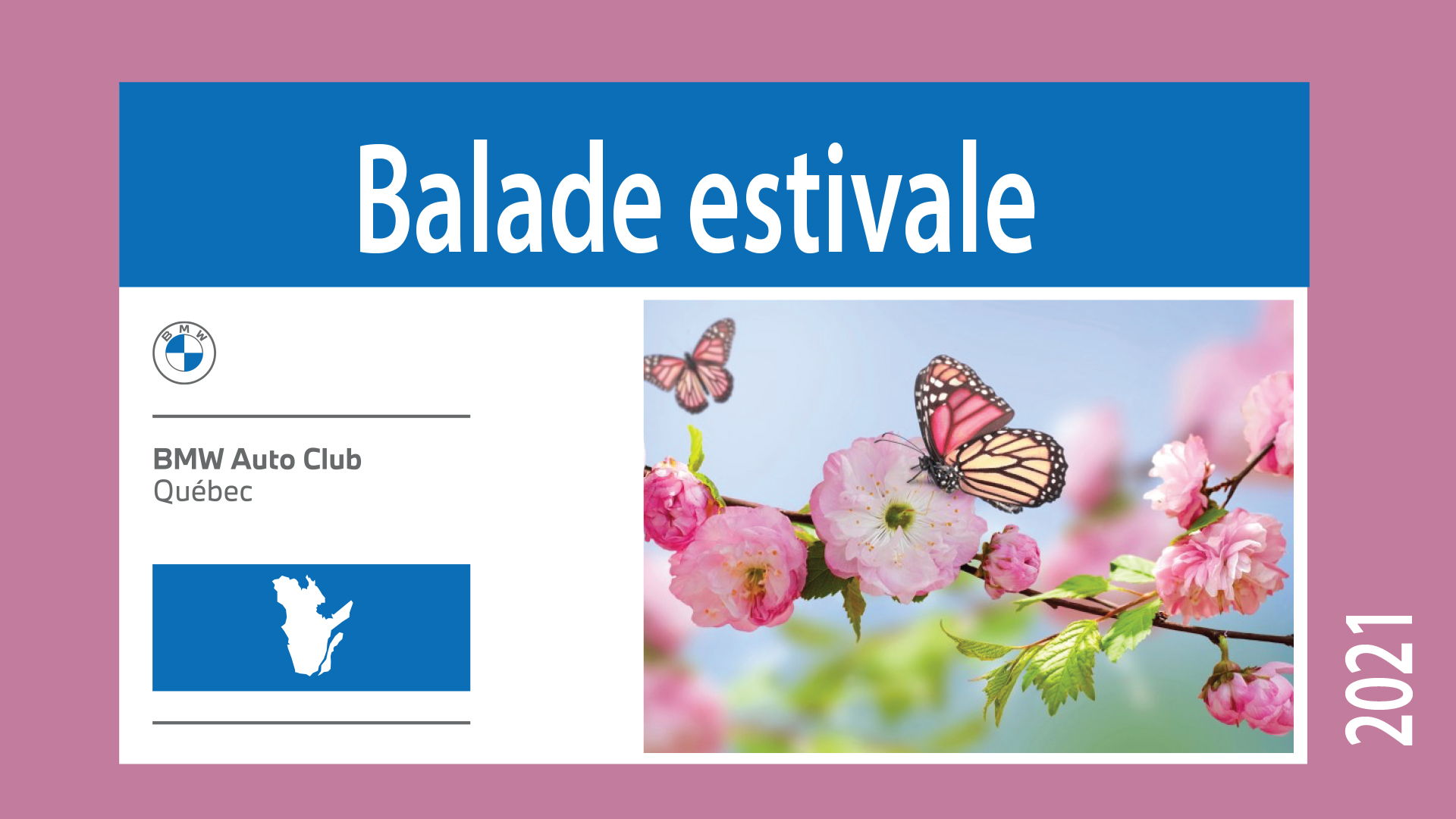 Balade estivale / Summer drive
Samedi le 4 septembre 2021.
Un passage aux Îles de Sorel et un dîner au Vignoble et cidrerie Coteau Rougemont avec vos amis du Club.
Apportez votre lunch et par la suite nous pourrons visiter les installations qui sont de très grande qualité.
Le nombre de voitures sera limité et réservé, en priorité, aux membres du club, réservez-donc tôt.
Quelle belle occasion de vous faire accompagner par vos proches, vos amis, et qui comptent parmi eux peut-être des futurs membres du club.
Cette balade de 150 km partira de notre point de rassemblent sur la rive sud, près de l'autoroute 20.
le lieu précis sera quelques jours avant l'évènement

Rassemblement à partir de 8h30

Départ 9h00
Frais d'inscription*:
Supplément non-membre** 60$ CAN applicable à un abonnement au Club (valide jusqu'au 31 décembre 2021)
* Les prix de tous les services comprennent les taxes applicables.
** Nous acceptons les membres des BMWCC ainsi que les membres d'autres clubs écoles de conduite avancée, incluant ceux de BMWCCA, PCA, ACNA, Virages, CADL.
Note COVID : Même si nous avons très hâte de vous revoir, sachez que nous devrons considérer les restrictions et les mesures de santé publique concernant les rassemblements et évènements, qui s'appliqueront au moment de l'évènement.
​Si vous avez des questions, veuillez référer à la section FAQ ou communiquer avec le registraire de l'événement à reg@BMWAutoclubQuebec.com
Saturday september 4th, 2021​
A trip to Iles de Sorel and a lunch at Vignoble et Cidrerie Coteau Rougemont with your fellow Club members.
Bring your lunch, after which we will tour the estate, which is highly rated.
The number of cars will be limited with priority given to club members, so please reserve early.
Feel free to bring along your close ones, your friends, some of whom may be future club members.
The 150km drive will start from a gathering point on the south shore close to Highway 20:
Meeting location will provided a few days before the event

Gathering at 8.30 AM

Departure around 9AM
Registration fees*:
Non-Member** Supplement $60 CAD to be applied towards membership in the Club (valid until Dec 31, 2021)
* Prices for all services include applicable taxes.
** We honor memberships from BMWCC and a select group of other car clubs including BMWCCA, PCA, ACNA, Virages, CADL.
COVID Note: Although we are very keen to see you again, we will need to conform to any restrictions or public health measures related to gatherings and events that may apply at the time of the event.
If you have any questions, please refer to the FAQ section or contact the event registrar at reg@BMWAutoClubQuebec.com
Event requirements
Procédez à votre enregistrement
Proceed with your registration
BMW Auto Club Quebec
Montreal, QC
More events from this organizer