Autocross Sunday #12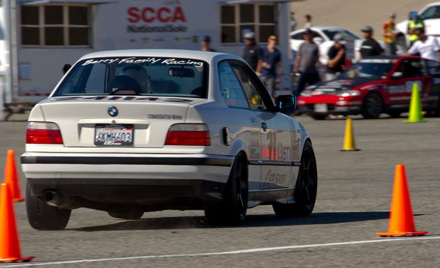 SCCA - SoCal Solo II
Sunday, November 12, 2017
Auto Club Speedway
,
Fontana

,

CA
Registration closed November 10, 2017 11:59 PM on November 10, 2017 11:59 PM PST Registration ends November 10, 2017 11:59 PM on November 10, 2017 11:59 PM PST Registration opens October 8, 2017 12:00 AM on October 8, 2017 12:00 AM PDT Registration runs from October 8, 2017 12:00 AM to November 10, 2017 11:59 PM

The Cal Club SCCA Autocross Sunday Championship Series continues at our winter home, Autoclub Speedway in Fontana. This is the 12th of a scheduled 13 events of the 2017 season. These year end events become the time to either close gaps or solidify leads for both team and individual awards. Good luck to all as we near the end of the 2017 season. 
Solo, or autocross, is a low speed, timed, handling event set up as a small road course lined with orange traffic cones on a large parking lot or aircraft taxi way. The emphasis is on handling and car control and the courses are laid out so that the top speed is limited to what would be encountered during normal driving. 
Autocross Sunday events are open to all SCCA members. If you're not an SCCA member, do not worry. Non-members can purchase an SCCA weekend membership with online registration during the checkout process, or at the event for $15.
Autocross Sunday is a half-day commitment. You will either run in the morning or the afternoon, depending on your class. The run order is usually posted one week prior to the event. There is also an option of running Time Only (TO) and not in a class; TO is split into AM and PM run groups. Regardless if you run TO or in your class, if you're running in the morning, it's suggested to be on site at 7 am. If you're running in the afternoon, it's suggested to be on site at 11 am as tech and registration close at noon.
See Cal Club Forums for Run Order.
The Details
3-4 runs
May purchase an additional 3-4 runs (called X-runs) onsite; subject to availability
Required work assignment
Half day time commitment
Bring water and snacks
No overnight camping allowed (you may leave your car and gear on site, however)
Persons aged 12 and older are allowed as passengers
If you bring an EZ-up, you mush have 50 points of ballast at each corner
Fees
Regular Entry, $45. 
Students 24 and younger with current student ID, $35. 
Register online and save $5. Online registration ends Friday midnight, two days prior to the event.

You can also save even more! Take advantage of early registration and SAVE $10! Early registration ends Saturday midnight, one week prior to the event.
No obligation! Autocross Sunday online and early registration fees are fully refundable should you not attend the event. 
Junior Karts, $15 anytime
X-Runs $25 (must be purchased at the event)
 
An SCCA membership is required

A temporary membership can be purchased for $15 the morning of the event
You may pay online or at the event with cash, check, or credit card. If for any reason you are unable to attend Autocross Sunday and have prepaid for the event, you may request a refund by emailing our treasurer at anthony@solo2.com. Please note we are going cash-less starting in 2018. 
How and What to Register For
You may register online for a discounted fee, or you may register day-of at the event for the regular fee. You can register in a class based upon your car and modifications, or you can register to run Time Only in either the morning or afternoon groups. Work is required when you run. 
An additional set of runs (called X-runs) are available for $25 (no additional work is required when you purchase X-runs). Your normal runs (in class or Time Only) must be purchased and completed prior to taking X-runs. 
Sunday Schedule (note afternoon times are subject to change)
7:00 am – 12:00 pm - Tech and registration open
7:00 - 8:15 am - Course available for walking
8:00 am - Guided course walk (ideal for newcomers)
8:15 am - Course closes for walking
8:15 am – Mandatory driver's safety meeting; novice meeting will follow immediately after safety meeting
8:25 am - Call for first group workers
8:30 am - First car out in AM groups
12:00 pm - Tech and registration Close
12:00 pm (ish) – Lunch walk
12:30 pm (ish) – First car out in PM groups
When you arrive
Sign the event waiver at our entrance
Register
Tech your car (don't forget to put on your numbers and class first)
Walk course
Driving directions
Exit 210 or 10 freeways at Cherry, head South (from the 210) or North (from the 10), you will see the large entryway gate. Tell the guard you are with the SCCA, they will tell you which lot we are in (or refer to the map below).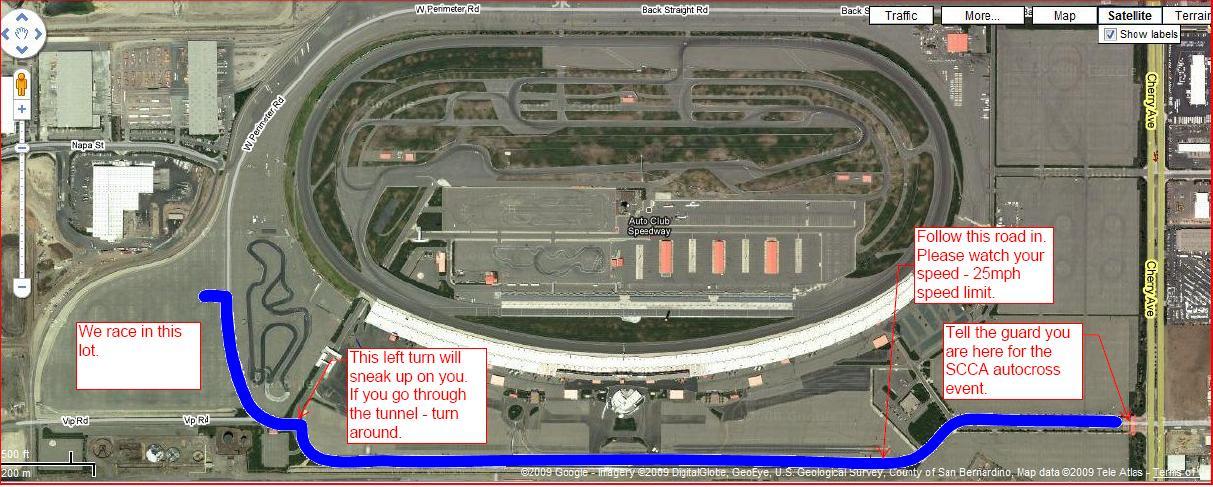 Event Chiefs
Event Master - Randy Gonzalez
Registration -  Maggie Jardine
Timing and Scoring - Rick Brown
Course Designer - Matt Ales
Workers - Neelu Yeoh
Tech - Kai Hur
Gate - Kevin Pao
Novice Coordinator - Leonard Cachola
Safety Steward - Tom Tanquary
Youth Steward -