AudiFest 2018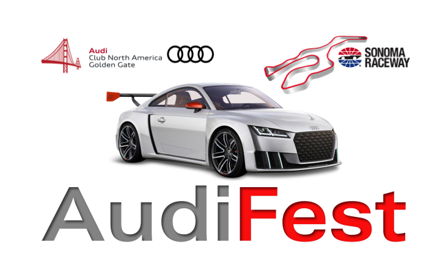 Audi Club NA - Golden Gate Chapter
Friday, Nov 2 — Sunday, Nov 4, 2018
Sonoma Raceway
,
Sonoma

,

CA
Registration closed October 19, 2018 5:00 PM on October 19, 2018 5:00 PM PDT Registration ends October 19, 2018 5:00 PM on October 19, 2018 5:00 PM PDT Registration opens June 6, 2018 10:00 AM on June 6, 2018 10:00 AM PDT Registration runs from June 6, 2018 10:00 AM to October 19, 2018 5:00 PM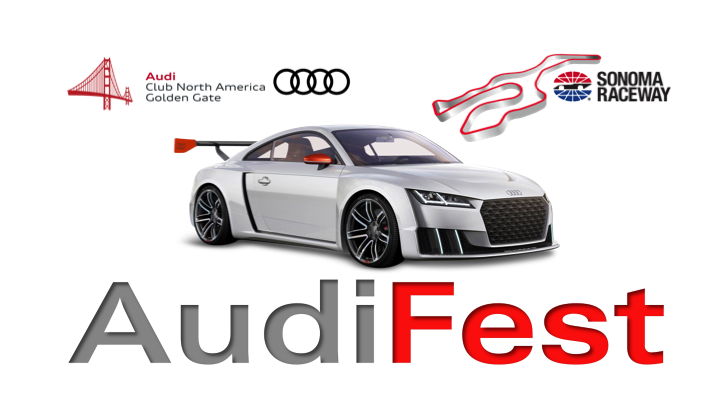 AudiFest 2018 at Sonoma Raceway
Please read the following important information about this event.
What is AudiFest?
AudiFest is the Audi Club Golden Gate Chapter's annual high performance driving event (HPDE) at Sonoma Raceway in Sonoma, California. With record attendance each year, we are anticipating another sell-out for driving enthusiasts who will enjoy the 12 turns and over 200 feet of elevation change offered by this internationally famous track. We welcome all marquees of automobile to join us at at the AudiFest HPDE.
No matter your skill or confidence level, you will certainly have fun at this event. First timers and beginners will spend the morning of the first day in an initial classroom session followed by car control exercises during which you will develop skills and learn the practical side of vehicle dynamics before heading out to the track after Saturday lunch. Intermediate and advanced students (after your first, brief classroom session) and our seasoned instructors will head out directly to the two miles of tarmac awesomeness at Sonoma Raceway Park starting on Saturday morning.
During the car control sessions, first time and beginning students drive their own cars, and are coached by instructors who observing their progress from outside the car during the exercise. This provides each student with the foundational knowledge needed to get the most out of the event. During on-track driving activities, all students drive their own cars, and are accompanied by in-car Audi Club instructors who are there to coach each driver to improve and hone their driving skills.
Students are aggregated into Run Groups which are established to allow students to be on track with other drivers of similar experience. First timers and beginning students always have an instructor in the car during on track sessions. Novice, intermediate and advanced drivers will be assigned an instructor. Depending on skill level demonstrated to the instructor during the event, these students may be signed off to solo in the car without an instructor. To ensure that the club provides each student with a safe and secure environment, passing is allowed only on designated sections of the course, and under controlled circumstances. Since the race track does not have side streets, stop lights, pedestrians, or any of the other distractions encountered while driving on public streets, the time you spend on the track provides a great opportunity and safe environment to learn advanced driving techniques and explore the capabilities of both car and driver.
Classroom Sessions
This is a driver's education school and all participants are required to attend interactive classroom sessions designed to teach vehicle dynamics and driving techniques. These sessions will continue throughout the day to help participants understand the fine art of precision driving.
Event Date & Time
Registration Check-In: Friday, November 2, 2018 beginning at 4:30 pm
Location: Sheraton Hotel Petaluma in the main lobby.
Drivers' and Instructors' meetings on Friday evening at the Sheraton Hotel (details will be provided in a welcome email you will receive a couple of weeks before the event).
HPDE: Saturday, November 3 — Sunday, November 4, 2018 - Gates will open at 6:00 am
Location: Sonoma Raceway, Sonoma, CA
Event Cost
The event registration fees are:
$695 for students and $325 for instructors. Early bird registration discounts are available through July 27th.
Your registration fee includes: snacks and soft drinks prior to the mandatory drivers' meeting on Friday night, two days on track at Sonoma Raceway, event swag, all the water you can drink and the sumptuous Saturday night banquet and auction. 
Lunches are not included in registration fee but will be available at the Raceway Cafe at Sonoma Raceway.
Additional guest banquet places may be purchased for $75 each.
20 garages at Sonoma Raceway are also available at the cost of $200 each.  Each garage can accommodate up to 4 cars so they can be shared.  Please note that they sell out quickly!
Hotel and Accommodations
ACGG has secured a room block with the Sheraton Hotel, Petaluma. To make a reservations, please use the following link: https://www.starwoodmeeting.com/Book/AudiClubGoldenGate 
The contracted rates are Traditional King, Accessible Traditional King, Or Double Queen, contracted room rate of $265.00 per night. Check-in November 2nd, Check out November 4th. 
Who is the Audi Club Golden Gate (ACGG)?
Audi Club Golden Gate is a chapter of the Audi Club of North America (ACNA), a 501c(3) non-profit organization with the purpose of providing to its members: driver education, driver safety training, and education about the Audi brand. ACGG serves the members in Northern California, NW Nevada, and Hawaii areas, but our events are open to Audi Club members, and we encourage you to bring your friends and family. To support the educational experience, ACGG offers events from new Audi introductions, technical seminars, fun drives, teen driving clinics, social events, tours, and high performance driving events throughout the year. Due to our good standing in the community, ACGG is able to take advantage of relationships with dealerships and well recognized private service centers in Northern California. As a result, many of our sponsors offer discounts and special promotions available only to our club members.
Special offers from Audi and Audi Club North America
As a member of ACNA, you automatically become a member of ACGG if you live in our service area. As a member, you will receive a quarterly magazine from ACNA and regular emails from ACGG to keep you informed and up-to-date on the scheduled events that happen throughout the year. We are also fortunate to receive significant discounts on the purchase of any new Audi, plus discounts from many of our fine sponsors.
Refunds & Cancellations
By clicking "continue" and registering for this event, you acknowledge that the registration facilitation website, MotorsportReg.com, makes no refunds of any kind. View the MotorsportReg.com terms for details.
Audi Club NA - Golden Gate Chapter is offering a separate cancellation policy directly: $100 event cancellation fee up to and including September 22nd. No refunds for cancellations after September 22nd.