AMR Instructor Refresher - Instructors ONLY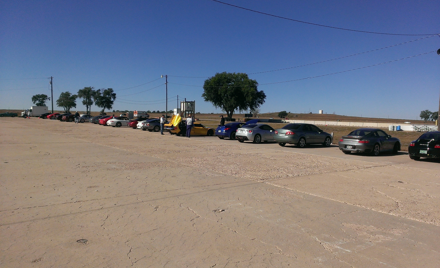 PCA - Alpine Mountain Region
Sunday, March 25, 2018
La Junta Raceway
,
La Junta

,

CO
Registration closed March 23, 2018 11:59 PM on March 23, 2018 11:59 PM MDT Registration ends March 23, 2018 11:59 PM on March 23, 2018 11:59 PM MDT Registration opens March 10, 2018 10:00 PM on March 10, 2018 10:00 PM MST Registration runs from March 10, 2018 10:00 PM to March 23, 2018 11:59 PM
Alpine Mountain Region Porsche Club of America
Instructor Training and Refresher Day
INSTRUCTOR ONLY HPDE - ALL BLACK GROUP, ALL DAY!
March 25th, 2018 at La Junta Raceway
Sponsored by Alpine Mountain Region, Porsche Club of America
First let me apologize for the late notice of this opportunity.  We wish we could have announced this earlier and provided more time for you to plan and prepare. Our preparations took longer than expected and we have only recently finalized all the details.  We hope you can join us, however, we understand if the notice is simply too short for you to make it this year.  We intend to host this event in March each year so, put it on your calendar now for next spring!
The reason we are doing this is that each and every one of us is expected to attend an "Instructor Training" at least once every two years.  We are also expected to teach a minimum of 3 HPDEs every two years.  That seems reasonable and fairly attainable.  Some of our instructors have been unable to meet these criteria despite their best efforts and intentions.  If we fail to meet these expectations our status is changed to inactive and we lose our instructor privileges.  It would be a loss to our program for any of our instructors to become inactive and lose their instructor privileges.  Instructors have shared many reasons for their inability to meet these obligations, ranging from simple schedule conflicts to changes in their other work responsibilities and even temporary health constraints.  The CDI Committee decided to take action and offer an alternative.  We believe that training on the track, with other instructors will be the absolute best way to improve our instructional skills and to build unity and consistency in our HPDE program.
There are now TWO ways to meet the requirement of attending an Instructor Training Day.  Rocky Mountain Region will be hosting an Annual Instructor Meeting training session in May that will meet the requirement. Also, we will be hosting an on-track training session on March 25, 2018 at La Junta Raceway.
You are officially invited to participate in our inaugural INSTRUCTOR ONLY HPDE!
We will begin the day with a two hour session on instructional technique and pro tips.  This interactive session will be moderated by the CDI Committee and will give you a chance to get answers to your questions, learn from other instructors and get the latest updates.  Specifically we will be focusing on the 'art of instructing' and exploring ways we can help our students develop their driving skills more safely, more effectively and more consistently.
THEN......we GO HOT!
We will spend the rest of the day on the track.  We have paid corner workers and a starter and will run this as an HPDE.  The difference is; ONLY INSTRUCTORS ARE ALLOWED at this event.  So, there will be expanded passing the entire time.  Per HPDE Minimum Standards, only instructors are allowed to ride in cars on the track - everyone at this event is an instructor so, anyone can be a passenger in any car!  When we go to an HPDE we often are too busy teaching and then driving our own cars to get anyone to ride with us.  And, we seldom ride with other instructors.  So, we may reach a plateau in our own driving.  Most instructors have shared that they would appreciate having another instructor ride with them to coach them.  We could probably all learn something by having a qualified coach in the car with us and wouldn't we all like to improve our own driving?
We will take session breaks to gather together and share our 'lessons learned' before we commence another track session.  This will also give our steeds a chance to cool down and catch their breath.  At the end of the day we will gather for a little refreshment and swap some stories before heading home to prepare for our season.
The BEST News is that your Board of Directors supports our efforts and encourages us to continue with our development as instructors so, they have agreed to underwrite this event.  We will all contribute $50.00 to help offset the cost of the ambulance and medical professionals.  And, that ladies and gentlemen is likely to be the best deal of the year for a full day of track time!!!!!
The Holiday Inn Express in La Junta has a special rate for the Porsche Club.  Simply call their front desk to get the rate (719) 384-2900
The Red Lion Capri Hotel is another popular option and can be reached at (719) 383-3946
Some of us will be going down on Friday night for our new  Instructor Training Clinic that we be held at the track on Saturday.  So, if you would like to drop your car or trailer at the track on Saturday we will be there until 4:30 pm.  (We may have an informal gathering for dinner on Saturday night.  Details TBD)