2nd Annual Virginia/SCNA-SAAB Meet & Greet Event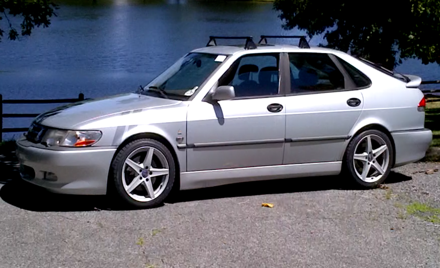 SAAB Club
Sunday, March 29, 2020
The Blue Ridge School
,
Dyke

,

VA
Registration closed March 15, 2020 11:59 PM on March 15, 2020 11:59 PM EDT Registration ends March 15, 2020 11:59 PM on March 15, 2020 11:59 PM EDT Registration opens February 7, 2020 12:00 AM on February 7, 2020 12:00 AM EST Registration runs from February 7, 2020 12:00 AM to March 15, 2020 11:59 PM
***FREE***   Virginia/SCNA - SAAB Meet & Greet Event
****March 28, 2020 UPDATE**** Just Added: 
Topic: SAAB Silent Online Auction
Details: We will be having an online silent auction starting on Sunday, March 28, 2020 and running for a week
Website for the auction: SAAB Online Silent Auction
****March 27, 2020 UPDATE****
Topic: Virginia/SCNA - SAAB Reveal Live-Streaming Event
Event Details: We will be live-streaming the much anticipated SAAB Reveal Event of 2 magnificent SAABs; 1 - a spectacular SAAB build collaboration that is a true work of art and 2 - a simply amazing ground up build of a very popular SAAB that was featured/auctioned on Bring-A-Trailer.
Time: March 29, 2020 01:00 PM Eastern Time (US and Canada)
Franklin Daniels willbe hosting the SAAB Reveal Live-Streaming Event. Join Zoom Meeting at: https://blueridgeschool.zoom.us/j/527661093 ,
Meeting ID: 527 661 093
One tap mobile
929-205-6099,,527661093# US (New York)
312-626-6799,,527661093# US (Chicago)
 Dial by your location
        929 205 6099 US (New York)
        312 626 6799 US (Chicago)
        669 900 6833 US (San Jose)
        253 215 8782 US
        301 715 8592 US
        346 248 7799 US (Houston)
Meeting ID: 527 661 093
****March 21, 2020 UPDATE: Special / Important Announcement****
To our valued and loyal SAAB owners and enthusiasts:
Due to the current state-of-affairs associated with this global pandemic, we have decided to only cancel the social gathering aspect of the Virginia/SCNA - SAAB Meet and Greet Event scheduled for March 28th and 29th. Therefore, the host venue will be closed and we are instructing everyone to stay home and enjoy our new, amended format. We are taking the threat of COVID-19 seriously and exercising extreme caution, which is paramount in ensuring the health and safety of our community. And speaking of the community, the SAAB community is absolutely amazing!! Even though all of our lives have been affected and disrupted, the SAAB community has held strong and was a source of daily encouragement.
We appreciate all of the calls, text messages and emails --- the overwhelming majority is still looking forward to this event as an opportunity to escape from the grasp of our current reality, strife with unprecedented levels of fear, bans, mandates and uncertainty. We had 127 SAAB faithful to pre-register for this event prior to us closing the registration portal after Governor Northam's mandate on gatherings of 100+. The VIP Dinner had soldout, along with our 1st run of the commemorative event lanyards and custom ID cards! Feeling obligated to bring some level of normalcy back to the SAAB community, we are working to reschedule the full event in the fall of the year.
The revised Virginia/SCNA - SAAB Meet and Greet Event will offer the following;
The Online Silent Auction is still going to happen on Sunday, March 29th, featuring SAAB parts and memorabilia. If you have items you want to list/feature get your pictures ready and contact us ASAP. We will be offering free local(Virginia) pickup and free local(Virginia) delivery of all listed/sold items. Shipping of any out-of-state items sold will be the responsibility of the buyer. The auction will close/end at 4:00 PM EST on Sunday, March 29th.
The SAAB Car Show is still going to happen on Sunday, March 29th, however, it will be in an online/virtual format only, with the same 3 judged categories. Those who pre-registered simply need to respond to the email notice they received or send an email to: Virtual SAAB Show Entry and attach a clear, high quality photo of your car, along with a brief description by Thursday, March 26th. Each submitted entry will be; assigned an entry number, listed on/in an online photo album and receive real-time online votes from every pre-registered guest that has submitted an email address/cell number. The voting ballots will be sent out on Sunday, March 29th at 1:00 PM EST via text/email. Voting will take place from 1:00 PM until 4:00 PM, with the 1st Place winners announced on the SAAB2020VA portal at 4:15 PM. The 1st Place winners will receive their trophies via USPS.
We had 2 very special SAABs that were originally scheduled to be at the event, kept under cover and revealed to the world at 1:00 PM EST on Sunday, March 29th. Well, the owners of these spectacular SAABs have both agreed to have their cars unveiled at a remote location in a private ceremony and take part in an interview that will be taped and shared with the entire SAAB community via YouTube. One SAAB was part of a 3 company collaborative build and is now arguably one of the most powerful SAABs on the East Coast. This SAAB has yet to be seen anywhere in public and will definitely take your breath away. The other SAAB reveal is one of the infamous Bring-A-Trailer superstars. Another purpose built SAAB, this one was stripped down to the shell and completely rebuilt from the ground up.
For everyone that pre-purchased SAAB swag, SAAB stickers, Commemorative event lanyards and custom ID badges, we will start shipping(FREE) out your purchases next week. The only SAAB swag that is still available for purchase is <10 of the commemorative event lanyards. We will try to get a few new SAAB swag items to add to the auction portal. 
For those that purchased a ticket to the VIP Dinner and SAAB Roundtable, keep an eye on your email. Because this was a "limited" and "private" event and per request, we are putting together a socially conscious special catered VIP Dinner, with properly advised social distance protocol/practices within the mandated patron guidelines.
In closing, we want to offer up a huge thank you to this unparalleled community for being so patient and so understanding throughout these challenging times. Continue to be; smart, careful, calm, vigilant, proactive, positive and mindful of others.
***We also want to thank and recognize the SAAB Parts Connection as our latest event sponsor***
On Sunday, March 29, 2020(12:30 PM - 5:30 PM) we will be having our 2nd Annual FREE Virginia/SCNA - SAAB Meet & Greet Event at the magnificent 751 acre private Blue Ridge School campus, which is nestled at the base of the Blue Ridge Mountains and encompassed by breathtaking 360º mountain views. Located in St. George(Dyke), VA, the grounds are simply awe-inspiring with; a serene lake, several ponds and glistening streams, a gun range, fishing, tennis and basketball courts and 15 miles of scenic biking and hiking trails. Rich in history, many of the buildings were designed by the prolific architect, Ralph Adams Cram and 2 of the campus' structures have been listed on the National Register of Historic Places.
Last year's event took place at the palatial 600 acre Castle Hill Cidery Estate in Keswick, VA. With 62 SAABs spanning the full spectrum of our beloved brand, from the Vintage years, to the Classics and through the GM era, all 103 attendees and guests were treated to some very rare and iconic SAABs. We are inviting all SAAB; owners, enthusiasts, collectors, fans, friends and interested parties to join us this year, for what will undoubtedly be the largest epic gathering of SAABs ever assembled in Virginia. We will have SAAB Convoys trekking to this Virginia event from; NC, GA, MI, WV, DC, NoVA and MD. Our goal this year is to set a new record and have an absolute avalanche of SAABs to grace the campus. We are encouraging all SAAB owners with multiple SAABs to get a friend/family member to drive your other SAABs to the event and help us place 150+ SAABs in the display lot for the media!!
Once again, we could not have this FREE event without the help of our sponsors; The SAAB Club of North America, NINES, Saabnet, Saabtech, Swedish Performance, Krona Performance, International Imports, European Cars of Williamsburg, Virginia SAABs, SAABklubbenVA, SAAB Parts Connection and The Virginia SAAB Driving Club. Par-for-the-course, there will be a limited amount of SAAB swag on hand to purchase the day of the event, so place your orders early. 
We will once again have our time-honored formal program, which will take place in the 22,000 sf Indoor Field House, at the host site, featuring a renowned SAAB historian guest speaker and we will also have several SAAB Master Techs on hand to answer any of your SAAB related mechanical questions. 
We are pleased to announce that this year we are adding several new and exciting SAAB Experiences;
 We will be having a

SAAB Car Show with 3 available classes to enter: (1) Performance/Modified, (2) Original/Stock and (3) People's Choice. 1st Place Winners in each category will be awarded a commemorative event trophy. Each attendee will be sent an electronic ballot, via their smartphone, to place their vote in each category.

 We will have a

Food Truck

conveniently stationed on campus to provide all attendees with some savory food choices and refreshing beverages.

 We are privileged and honored to have been selected to host the most anticipated

SAAB Reveal of 2020!!!

3 of the most gifted performance tuners/modifiers/fabricators in the States have collaborated on what will arguably be one of the most powerful SAABs on the East Coast. This build has not been seen anywhere and all of our attendees and guest will be treated to this very momentous unveiling --- LIVE!!! Not just a track beast, this SAAB is touted as being an aesthetical masterpiece complete with a set of amazing shoes and eye-catching LED resto-updates.

 On Saturday, March 28th we will have a

catered

SAAB VIP Dinner

in the elegant Victorian Gothic

Martha Bagby Battle House

on the private campus adjacent to the main lake. For those captivated by 16th - century Gothic Revival architecture, no need to travel to England ---- this building checks all of the boxes; rustic stone, decorative patterns, drip mould, gable roof and fieldstone. After dinner the VIPs will be treated to a

Tour

, which will include a peek into the office of our weekend host, who made this venue available to us. Beyond the beautiful architecture and interesting furnishings, this office also houses some very rare and sought-after

SAAB memorabilia

that has been collected from all over the world. If you are a "hardcore" SAAB collector, you definitely want to attend this

SAAB VIP Dinner

. Only

15 spots

are available for this

Dinner

and

Tour

, it

is

FREE

to all members of the

SAAB Club of North America

(

SCNA

) and will cost $20 for non-members.

 There will be an

Online Silent Auction

taking place during this year's event. If you are looking for that special/rare SAAB part or memorabilia item, you will want to view our online auction website(link to follow --- goes live 1 week before the event). If you have items you would like to sell or swap, to clear out some space for spring or to help fund a SAAB project, contact us to get your items listed with us. This auction will go live - nationwide.

 For those traveling in from a distance, we will have a secure area available for

Overnight Camping and Cooking Out

on the evening of March 28th. Bring your lawn chairs and lounge by the picturesque main lake under the stars and indulge in some intoxicating "SAAB stories".

Nix Mix Media

is proud to announce their attendance at the 2nd Annual Virginia/SCNA SAAB Meet and Greet!

Nix Mix Media

is an official contributing columnist for the SAAB Club(SCNA) national NINES magazine. They will be providing their unique and creative photography skills to showcase your SAAB in its glory. Bring your pride and joy, your daily driver, your diamond in the rough, or your rolling restoration! Your car may even get a chance to be in the NINES North American Saab Magazine!".

Nix Mix Media

will have their full arsenal of primo portable equipment at the venue and will be providing top-flight, high resolution 4 x 6 prints at a special event rate of only $5/print. Be sure to get on their appointment list and let these professionals immortalize your SAAB through the

Nix Mix Media

lense!!