About this event

Come and join us at Gimli Motorsport Park for a Saturday & Sunday of excitement!
Winnipeg Sports Car Club presents a WEEKEND of:
OPEN TRACK ON THE ROAD COURSE!
***CLOSED, PRIVATE EVENT - OPEN TO REGISTERED DRIVERS ONLY***

OPEN TO EXPERIENCED DRIVERS ONLY
MOST MAKES AND MODELS ACCEPTED
RELAXED ENVIRONMENT, DRIVE AT YOUR OWN PACE
NO TIMING, NO POINTS, NO PRESSURE

Come out and see what the all the fuss is about!
***PLEASE SEE NEXT PAGE AND READ ALL EVENT REQUIREMENTS***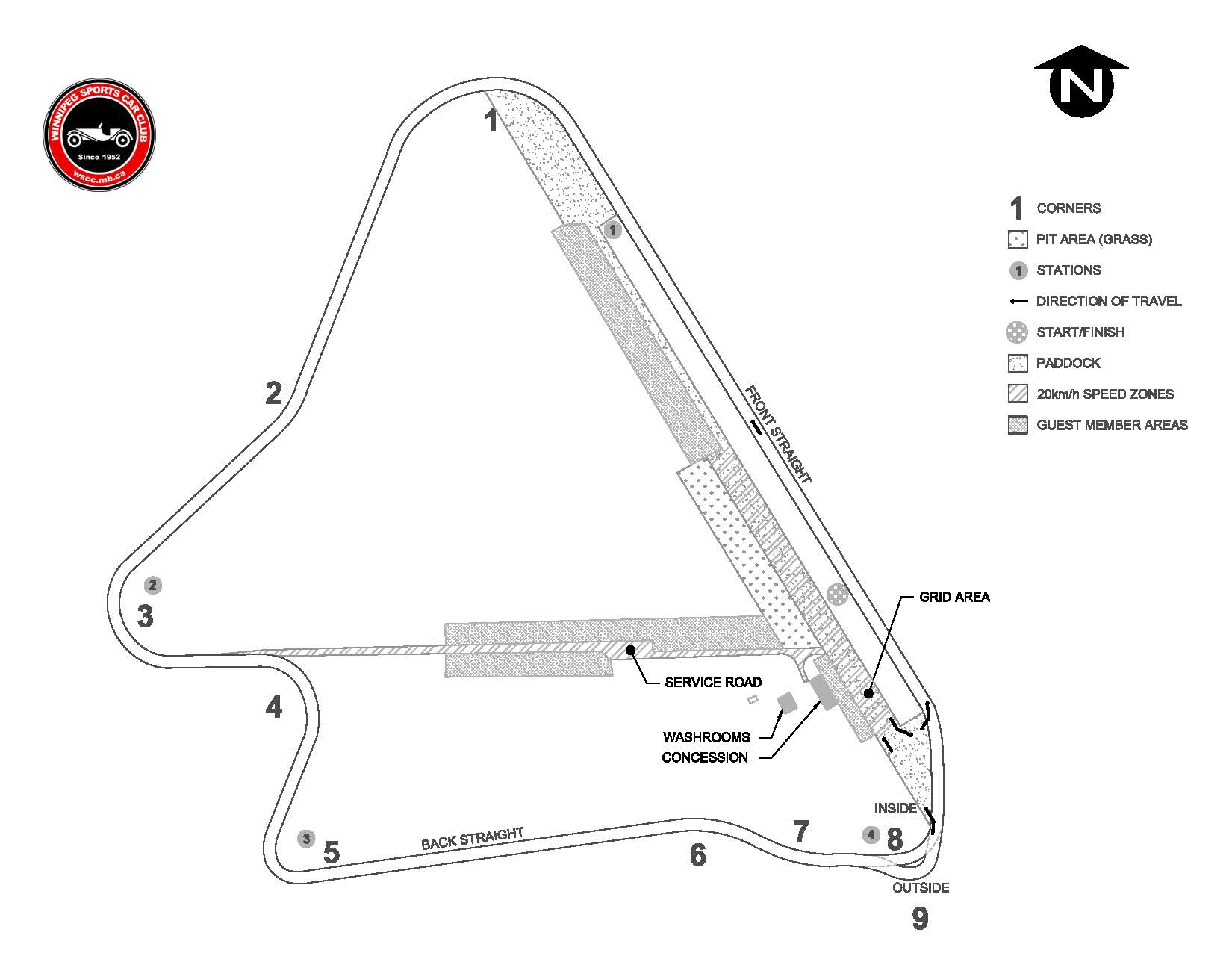 Event requirements

***SPECIAL NOTES DURING COVID-19 PANDEMIC***

ENTRANTS ARE REQUIRED TO BRING ALL FUEL, FOOD AND BEVERAGES FOR THE DAY. NOTHING WILL BE PROVIDED.
ONLINE PAYMENT REQUIRED.
NO CASH PAYMENT PERMITTED FOR THIS EVENT.
***HAVE YOUR SPEED WAIVER READY AT THE GATE***
OPEN TO INTERMEDIATE AND EXPERIENCED DRIVERS ONLY.
HELMETS AVAILABLE FOR PURCHASE IN LIMITED QUANTITIES AND SIZES.
HELMET RENTALS ARE NOT AVAILABLE FOR THIS EVENT.
Sports Cameras and other forms of in-car or on-car video recording are permitted.
This is a non-competition day and competition licenses are not required to participate, therefore:


***THE USE OF TIMING EQUIPMENT OR APPS OF ANY KIND IS

STRICTLY PROHIBITED!

***
Entry Requirements:
Winnipeg Sports Car Club annual membership or other WCMA affiliated club membership.
Track Day Classing System:
Yellow: NOVICE
Choose this class if you are new to open track days or have not yet "graduated" to GREEN group. If you are unsure if you should be in this group, please contact the registrar.
Green: INTERMEDIATE*
Choose this class if you are a veteran Friday Track Day participant. You must be signed off by a lead instructor to enter this group! If you are unsure if you qualify for Green, speak to the registrar. * This class also includes all competition license holders with street cars.
Red: (***Caged & NASA Classing Prepped Vehicles Only***)
This is a chaged, fully prepped race car class group only. Choose this group if you hold a valid Time Attack, Ice Race, or Amateur Race License AND are entering a full-cage, amateur prepped race car. If you have an open wheel car, be sure to inform the registrar. Note: Passing is permitted anywhere on track in this class with prepped vehicles.
Drivers:
All drivers are required to attend the drivers meeting. Consult the event schedule for driver's meeting time.
All drivers are required to wear long pants and closed toed shoes. Long sleeved shirts are recommended.
All drivers are required to wear appropriate helmets (SNELL SA, SAH or M 2010 series or newer). No DOT-only helmets allowed.

Vehicles with factory or aftermarket roll protection must wear SNELL SA helmets.
Newer SA helmets are available for rent in all sizes. First come, first served.

All drivers should bring a plastic bin to keep their belongings in. Make sure it is marked with your name and car number.
All drivers should bring appropriate tools and equipment to rotate tires, and re-torque lug nuts at a minimum.
Vehicle: (If you are unsure if your vehicle qualifies, contact the event registrar!)
Any four-wheeled vehicle is permitted however it must be dimensionally wider than it is tall.

Convertibles are permitted providing they have an OEM Hard-Top or OEM/Aftermarket installed roll protection.

All convertibles must contact the registrar to ensure their vehicle is permitted!

Vehicles do not have to be road legal however must appear and function as if they could be driven on the street. This includes but not limited to:

Coachwork complete and intact
Functioning side and rear view mirrors
Working head and tail lamps
Wipers, windshield glass, and sealed windows behind the driver
FIX ALL KNOWN LEAKS!

All regular maintenance must be up to date.
All entrants must have completed annual tech form for the vehicle that is registered. You will not be permitted on the road course without it.

All vehicles with roll cages, must complete the race-tech form and present the car and the form to the tech inspector or chief scrutineer. Vehicles with roll bars or roll cages are subject to inspection from the chief scrutineer. Upon checking in, inform the registrar that you have registered with a vehicle with a roll cage.

SNELL SA helmet use is mandatory for vehicles with factory or aftermarket roll protection.

All vehicles shall be numbered.
Standard Open Track Time Annual Tech Form
Cars with Roll Cages - Annual Tech Form
Gimli Motorsports Park
Gimli, MB
Download track map
Watch a video tour/lap