2020 WMC Novice School & Driver Skills (Canceled)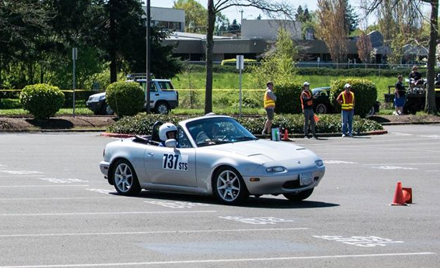 Willamette Motor Club
Saturday, March 28, 2020
Keizer Volcanoes Stadium
,
Keizer

,

OR
Saturday March 28 2020. Car control and autocross skills day
Keizer Volcanoes Stadium
Students, instructors and volunteers only
Practice autocross features: limited worker assignments, multiple optional elements. Time only, no scoring. 
PRE-REGISTRATION STRONGLY ADVISED. Sign in and Vehicle Technical Inspection  7:30AM to 8:30AM, Drivers meeting and chalk talk 8:45. Walk ups will only be accepted if space available! Rain or Shine. We recommend you arrive by 8:00AM.  NOTE: for technical inspection, your car will be evaluated for safety.  No loose items inside the vehicle, seat belts in good working order, batteries in a secure mount (no bungees), no leaking fluids.
40 Student maximum, Loaner safety equipment available no cost.
To maximize 1on1 instructing, fun runs and testing for instructors, students and volunteers... ONLY as time allows. All drivers over 18 will be required to sign up and be available to work course. Drivers under 18 must be accompanied at sign in by parent or legal guardian, or bring a notarized release signed by parent or guardian.
Release of liability waiver form signature required. Volunteer to course work and or instruct all day and get PM runs FREE! (space available) Lunch break will only be around a half hour and will depend on progress of students, we recommend to bring your own lunch.
Skills course teaches the dynamic benefits of chassis balance by driver input and optimizing grip. Maximizing braking and traction, limit of grip control. How to find "The Line" Emergency car control and braking. Basics of general high performance driving skills "At the Limit". Autocross Tips and tricks to make your introduction to formal motor-sports more fun and productive. Avoid that "Sea of Cones" experience that intimidates new drivers. Learners permits are OK if parents are present, but course is not for pure beginners, we are not teaching basic driving.
Is it fast? YES!
Is it FUN? Absolutely!!
Limited openings for students so Sign up NOW at www.motorsportreg.com search Willamette Motor Club. Preregistration strongly advised!
The day starts with a short classroom discussion, followed by track time for the day. We are shooting for no more than 2 students per experienced instructor to maximize your one on one time.
www.wmclub.org