2020 Chesapeake Region PCA - Intro to Autocross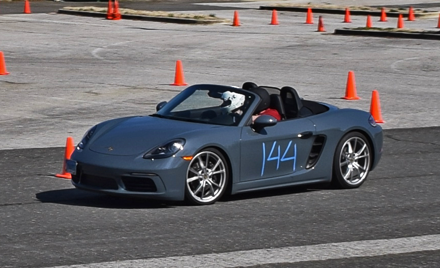 PCA - Chesapeake
Saturday, April 18, 2020
Porsche of Annapolis
,
Annapolis

,

MD

Are you a new Porsche owner and want to understand what your new machine is capable of?  Have you owned your Porsche for awhile and have wondered what this thing called "Autocross" is?  Do you want to become a better driver by understanding how to control your vehicle in emergency situations?  Are you already a dedicated autocrosser but want to improve your skills?  This event is for you!  
The day will start with our Autocross Chalk Talk (classroom session) hosted by Porsche of Annapolis.  Our Autocross Driving Instructors will cover many of the finer aspects of autocrossing:  general car control, weight transfer, oversteer/understeer corrections, precision braking, and a host of other techniques. The afternoon session is where you will be able to apply what you have learned and receive additional 'live-fire' mentoring as you practice emergency braking, slalom techniques, and car control on a skid pad. Finally, you'll have a chance to put it all together as you drive through an actual autocross course. 
Entry Details: $70 gets you the classroom session, basic skills driving exercises, and at least three runs through our autocross course. A maximum of 40 attendees will be accepted, there are no walk-ups available for this event.
Schedule: Here is the tentative schedule of the day's events:
0800  Check in at Porsche of Annapolis and pound some coffee!
0800 - 0845  Class (coffee, bagels, pastries & similar food provided by Porsche of Annapolis)
0845 - 0900  Tour of Porsche of Annapolis facilities
0900 - 0930  Transit to Prince George's Stadium (4101 Crain Hwy, Bowie, MD 20716)
0930 - 1000  Registration, Waivers, Tech cars
1000 - 1020  Drivers Meeting and Assignments
1030 - 1130  Driving Session #1
1130 - 1230  Driving Session #2
1230 - 1330  Driving Session #3
1330 - 1400  Lunch / Drivers Meeting #2
1400 - 1410  Course walkthrough
1410 - 1420  Drivers in cars and to work stations
1420 - 1600  Drive a full autocross course (Group #1)
1600 - 1615  Transition Grid to Group #2
1615 - 1800  Drive full autocross course (Group #2)
For new members or first time autocrossers, upon successful completion of the chalk talk, you will receive a discount code for use on MSR.com that will allow for free registration at one 2020 Chesapeake Region Autocross Event (except Ripken Stadium events).
Class Structure:
Prior to registering, please review the details below for information on car classes to help you finish the registration process. If you're still not sure, that's ok! Select "Not sure" as your class.
New for 2020: Updated Porsche classes. Be sure to check your class before registering!
SCCA classes for non-Porsches: Rules and classes can be found here. During registration, you will select "Non-Porsche (using SCCA classing)" as your Class first before selecting your SCCA class in the "Modifier" field.
Porsche classes: There are four categories - Showroom stock (S), Production (P), Improved (I) and Modified (M). In summary, Showroom stock classes are cars normally delivered to the US and Canada and can have factory options specific per model year (exception being R-rated/less than 180 treadwear tires even if they were on the car as delivered). For more details, see the PCA Parade Rules. Classes have been updated for 2020:
Years

Model

Type

Class Options

1948-1965

356

 

S1

P1

1965-1969

912

 

1976

912E

 

1965-1977

911

 

1978-1983

911SC

 

1970-1975

914/4

 

1970-1972

914/6

 

1976-1982

924

 

1986-1988

924S

 

1979-1982

924 Turbo

931

1983-1989

944

 

1987-1989

944S

 

1978-1986

928/928S

 

1987-1995

928S4/CS/GT/GTS

 

2003-On

Cayenne

 

2003-2010

Cayenne S

 

2011-On

Cayenne Hybrid

 

2013-On

Cayenne Diesel

 

2014-On

Macan - All

 

2010-2016

Panamera

970

2017-On

Panamera

971

1997-2004

Boxster

986

 

 

 

 

 

1976-1989

911 Turbo

930

S2

P2

1984-1989

911 Carrera

 

1989

911 Speedster

 

1989-1991

944 S2

 

1986-1989

944 Turbo

951

1988

944 Turbo S

951

1992-1995

968

 

1992-1993

911 America Rdst

964

1989-1994

911 Carrera

964

1993-1994

911 RS America

964

1994

911 Speedster

964

1995-1998

911 Carrera

993

2000-2004

Boxster S

986

2005-2008

Boxster

987.1

2005-2008

Cayman

987.1

 

 

 

 

 

1999-2005

911 Carrera

996

S3

P3

1999-2005

911 Carrera 4

996

2005-2012

911 Carrera

997

2005-2012

911 Carrera 4

997

2009-2012

Boxster

987.2

2009-2012

Cayman

987.2

2005-2008

Boxster S

987.1

2006-2008

Cayman S

987.1

2013-2016

Boxster

981

2013-2016

Cayman

981

 

 

 

 

 

1990-1994

911 Turbo

965

S4

P4

1995-1998

911 Turbo

993

1999-2005

911 Carrera 4S

996

2005-2008

911 Carrera S

997.1

2005-2008

911 Carrera 4S

997.1

2012-On

911 Carrera

991

2018-On

911 Carrera T

991

2009-2012

Boxster S

987.2

2009-2012

Cayman S

987.2

2013-2016

Boxster S

981

2013-2016

Cayman S

981

2014-2016

Boxster GTS

981

2014-2016

Cayman GTS

981

2017-On

718 Boxster

982

2017-On

718 Cayman

982

2019-On

718 Boxster T

982

2019-On

718 Cayman T

982

 

 

 

 

 

2011-2012

911 Carrera GTS

997

S5

P5

2012-On

911 Carrera S

991

2014-2016

911 Carrera 4S

991

2015-On

911 Carrera GTS

991

2010-2012

Boxster Spyder

987

2011-2012

Cayman R

987

2017-On

718 Boxster S

982

2017-On

718 Cayman S

982

2017-On

718 Boxster GTS

982

2017-On

718 Cayman GTS

982

2016

Boxster Spyder

981

2001-2005

911 Turbo

996

2005-2008

911 Carrera S X51

997.1

2009-2012

911 Carrera S

997.2

2009-2012

911 Carrera 4S

997.2

2010-2012

911 GTS

997.2

2011

911 Spdstr

997.2

2015-2016

Cayman GT4

981

2020-on

718 Cayman GT4

982

2004-2005

911 GT3

996

2002-2005

911 GT2

996

2006-2011

911 GT3

997

2006-2012

911 GT3RS

997

2008-2012

911 GT2/GT2RS

997

2007-2012

911 Turbo

997

2010-2013

911 Turbo S

997

2014-On

911 GT3 and GT3T

991

2016

911 R

991

2016-On

911 GT3RS

991

2018-On

911 GT2RS

991

2014-On

911 Turbo

991

2014-On

911 Turbo S

991

2019-On

911 Carrera

992

2019-On

911 Carrera S

992

2019-On

911 Carrera 4

992

2019-On

911 Carrera 4S

992

2004-2005

Carrera GT

980

2014-2015

918

918

 

 

 

 

 

All
4 Cylinder - All
 
I
M
All
6 Cylinder - All