2019 SEDiv Solo Duel Cross hosted by ARSCCA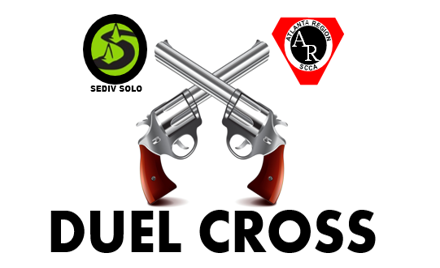 SCCA - Atlanta Region - Solo
Friday, Oct 4 — Saturday, Oct 5, 2019
Atlanta Motor Speedway
,
Hampton

,

GA
Registration closed October 4, 2019 5:00 PM on October 4, 2019 5:00 PM EDT Registration ends October 4, 2019 5:00 PM on October 4, 2019 5:00 PM EDT Registration opens September 11, 2019 12:00 AM on September 11, 2019 12:00 AM EDT Registration runs from September 11, 2019 12:00 AM to October 4, 2019 5:00 PM
Duel Cross is a unique event where you race actual people, not a clock. You and another driver are both on the track at the same time, but not wheel-to-wheel. One driver is halfway around from the other on a full-loop course, first one back to his own starting line wins the match.
You only have to beat that one other guy… this time. Two judges decide the match. Both must agree without consultation. If they don't, or they can't decide, a rematch is automatic.
Win your match and you keep going through a double-elimination bracket – that means you have to lose twice before you're out of the contest. There are also at least two practice runs in the morning, so everyone gets a minimum of four runs. If you keep winning, you get more runs as you advance through the brackets.
There is no clock (most of the time), there's no 2-second pylon penalty. The pylon rule is the same as a regular autocross (standing, touching the box).  If you hit a cone, the other competitor has to hit a cone in order for you to be back on even footing.  The competitor with the fewest cones wins.    
Brackets are set up in larger combined classes. You may see SS, AS, BS and FS all in one "Bigbore" bracket, for example. You enter your regular class. Pre-entry is required before 5pm, October 4th! Brackets are set up the night before the event after all pre-entry is in. Trophies at the event are based on bracket finish with an additional trophy or two for the top finishers.
Two drivers can still share a car. Brackets are set up to separate them as much as possible. If codrivers end up paired in a match, that match is run on stopwatches.  The first driver's time is not announced until the second driver is on course.  The fastest driver advances.  Since there is no direct comparison between the drivers, cones will be added as a two second penalty.
Within the brackets, lanes and pairings are by a poker chip drawing.  If there is enough difference between cars, there will be an offset start to help keep the pairing equal.  The offsets are not negotiable.  All pairings for the practice runs will be heads up.
With the exception of Karts, the event is open to all classes, including any local "run what you brung" class that the host region has.  Unfortunately, we will not be running Karts at this event.
This event is capped at 60 drivers.  Cost is $85 per driver.  
We will do our best to create a course that has a mixture of different elements that you would typically see at an autocross.
Arrive early and plan on being there all day. The schedule is:
    8 to 9 a.m. – Registration/tech/coursewalk
    9 a.m. – driver's meeting
    9:30 a.m. to noon (approx.) – practice (grudge matches allowed)
    Competition begins immediately after a short break