2018 TSCC Winter Karting Series #4(of 4)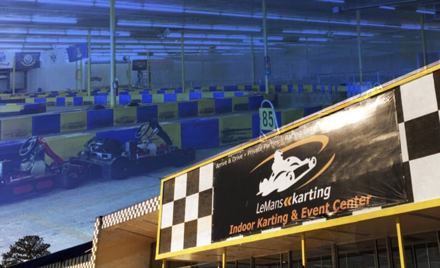 Tidewater Sports Car Club
Thursday, March 8, 2018
Le Mans Karting(Portsmouth, VA)
,
Portsmouth

,

VA
Registration closed March 7, 2018 11:59 PM on March 7, 2018 11:59 PM EST Registration ends March 7, 2018 11:59 PM on March 7, 2018 11:59 PM EST Registration opens February 23, 2018 12:00 AM on February 23, 2018 12:00 AM EST Registration runs from February 23, 2018 12:00 AM to March 7, 2018 11:59 PM
Le Mans Karting
2882 Airline Blvd, Portsmouth, VA 23701
Thursday March 8th, 2018
For the new year we will be hosting our Winter Karting Series at Le Mans Karting in Portsmouth, VA! 
Event Format:
Everybody participating will get to run (2)  7.5 min qualifiers plus (1) 15 minute Points Race for their entry fee(below).
The first qualifier(Q1) will be done primarily as a practice session and based upon single fastest lap times, determines the starting order for the second qualifier(Q2). Then starting order for the main race will be based upon the laptimes times from Q2.
Le Mans can accommodate approximately (10) drivers at once, which will necessitate multiple qualifiers to be run, and the main race will be split into an A-Main/B-Main/etc as necessary. 
Series Points will be awarded for each race on the following scale:
1st - 100
2nd - 95
3rd - 90
4th - 85
5th - 80
6th - 75
7th - 70
8th - 65
9th - 60
10th - 55
11th - 50
12th - 45
All others 13th and up will receive 40 points
The Series is comprised of four events, and one will be dropped for total season points calculations. In the event of a points tie at the end of the series, placing will be dictated by the fastest lap time(entire night - times from both qualifiers and the main race are eligible) at the most recent event in which both(or more) drivers in question attended the same night.
Prizes(for series points):
1st - $50 gift card good for 3 free races
2nd - $40 gift card good for 2 free races
3rd - $20 gift card good for 1 free race
...all thanks to Le Mans Karting!
Plus there will be trophies given out from Tidewater Sports Car Club for the above places, plus potentially a few more depending on series attendance!
If you're interested in coming out and joining us there are a few things that we ask that you do to make this a smooth event for all of us:
Pre-register here on MSR 
Arrive on time, 6pm is when we will start checking in for registration, which will close at 6:30. Racing starts at 7pm, late shows will not be able to participate.
Lastly, have fun!
Le Mans is offering special pricing for the TSCC Winter Karting Series which is dependent upon the number of participants:
7 or less - Price will be $50 for the three races
8-14 participants - Price will be $40 for the three races
15+ - Price will be $35 for the three races
Money will be due once everyone is checked in and pre-registered to determine the rate. Please show up to register between 6:00 and 6:30, racing starts at 7:00pm!