2018 Chesapeake Region PCA - Intro to Autocross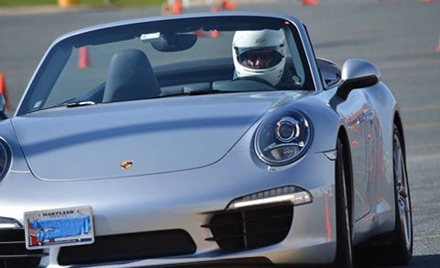 PCA - Chesapeake
Saturday, April 7, 2018
Porsche of Annapolis
,
Annapolis

,

MD
Registration closed April 4, 2018 11:59 PM on April 4, 2018 11:59 PM EDT Registration ends April 4, 2018 11:59 PM on April 4, 2018 11:59 PM EDT Registration opens February 1, 2018 4:00 PM on February 1, 2018 4:00 PM EST Registration runs from February 1, 2018 4:00 PM to April 4, 2018 11:59 PM
Are you a new Porsche owner and want to understand what your new machine is capable of?  Have you owned your Porsche for awhile and have wondered what this thing called "Autocross" is?  Do you want to become a better driver by understanding how to control your vehicle in emergency situations?  Are you already a dedicated autocrosser but want to improve your skills?  This event is for you!  The day will start with our Autocross Chalk Talk (classroom session) hosted by Porsche of Annapolis on 07 April 2018.  Our Autocross Driving Instructors will cover many of the finer aspects of autocrossing:  general car control, weight transfer, oversteer/understeer corrections, precision braking, and a host of other techniques. The afternoon session is where you will be able to apply what you have learned and receive additional 'live-fire' mentoring as you practice emergency braking, slalom techniques, and car control on a skid pad. Finally, you'll have a chance to put it all together as you drive through an actual autocross course.  $35 dollars for PCA members ($40 dollars if you are not) gets you the classroom session, basic skills driving exercises, and at least three runs through our autocross course.  Please pack lunch for yourself! Here is the schedule of the day's events:
0730 - 0800  Check in at Porsche of Annapolis and pound some coffee!
0800 - 1000  Class (coffee, bagels, pastries & similar food provided by Porsche of Annapolis)
1000 - 1015  Tour of Porsche of Annapolis facilities
1015 - 1100  Transit to Lincoln Technical Institute, 9325 Snowden River Pkwy, Columbia MD
1100 - 1300  Drive basic skills exercises (bring your own lunch, eat when you aren't driving)
1315 - 1430  Drive a full autocross course
For new members or first time autocrossers, upon successful completion of the chalk talk, you will receive a discount code for use on MSR.com that will allow for free registration at one 2018 Chesapeake Region Autocross Event (Except Ripken Autocross Event)
Prior to registering please review the chart below to help you finish the registration process
S1

968 (All)

911 Carrera 2 (964:1990-1994)

Carrera 4 (964:1989-1994)

RS America (1993-1994)

Boxster (986:1997-2004)

Cayenne (9PA:2003- On)

Panamera (2010- On)

P1

356 (All)

912/912E (All)

914/4 (All)

924 (All)

Cayenne (9PA:2003- On)

Panamera (2010- On)

S2

911 Carrera (993:1995-1998)

Boxster S (986:2000-2004)

Boxster (987:2005-On)

Cayman (2006-On)

P2

911 (1965-1969)

911 (1970-1977)

914/6 (All)

924S (All)

924 Turbo (931: All)

944 (All)

944S (All)

S3

911 Carrera (996:1999-2004)

997 (2005-On)

911 Carrera (991:2012-On)

911C2 Turbo (965: 1991-1994)

Boxster S (987:2005-On)

Cayman S (2006-On)

P3

911SC (1978-1983)

911 Carrera 3.2 (1984-1989)

911 Speedster (1989)

944 Turbo (951: All)

928 (All)

S4

993 Turbo (All)

996 Turbo (Non-GT2)

997S except X51 (2005-2009)

991S (2012-On)

Boxster Spyder (All)

Cayman R (All)

P4

911 Carrera 2 (964:1990-1994)

Carrera 4 (964:1989-1994)

RS America (1993-1994)

944S2 (All)

968 (All)

Boxster (986:1997-2004)

S5

997S X51 (2007-2009)

997S/GTS (2010-On)

996 GT2/GT3 (2002-2005)

997 GT2/GT3/GT3RS (2007-On)

997 Turbo (All)

Carrera GT (980:2004-On)

P5

911 Turbo (1976-1989)

911 Carrera, Carrera S, C4S (993:All)

Boxster S (986:1997-2004)

Boxster (987:2005-On)

Cayman (2006-On)

 

 

P6

 

911 Carrera (996:1999-2004)

997 (2005-On)

911 Carrera (991:2012-On)

911C2 Turbo (965:1990-1994)

Boxster S (987S:2005-On)

Cayman S (2006-On)

 

 

P7

 

997S except X51 (2005-2009)

991S (2012-On)

993 Turbo (All)

Boxster Spyder (All)

Cayman R (All)

 

 

P8

 

996 Turbo (Non-GT2)

997S X51 (2007-2009)

997S/GTS (2010-On)

996 GT2/GT3 (2002- 2005)

997 GT2/GT3/GT3RS (2005-On)

997 Turbo/Turbo S (All)

Carrera GT (980:2004-On)

I

 

Any Porsche exceeding Street Prepared allowances (All)

Guest

Any

M

 

Any Porsche exceeding I Class allowances (All)