About this event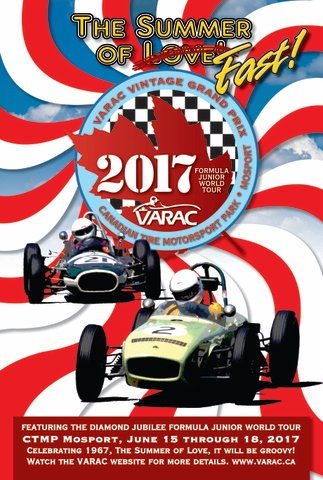 UPDATED May 24, 2017                                                                                                                                                            
The Provisional Schedule for the event has now been posted on the VARAC website.
Master schedule: http://www.varac.ca/varac/documents/festival/2017/2017%20Master%20Schedule.pdf
Test Day Schedule: http://www.varac.ca/varac/documents/festival/2017/2017%20Test%20Day%20Schedule.pdf
On Track Schedule: http://www.varac.ca/varac/documents/festival/2017/2017%20On%20Track%20Schedule.pdf
In addition, all competitors should read the Supplementary Regulations for the event:
http://www.varac.ca/varac/documents/festival/2017/2017%20CHGP%20Supp%20Regs.pdf
Be advised that the final track session, the VARAC Vintage Grand Prix has hit 60 entries.  We will allow it to be over-subscribed to account for breakdowns and withdrawals, but if we have to `cut`entries at the event they will be dropped in reverse order of registration.  ie last one in is the first one out.   
Groovy Baby!  Yeahhh!  1967 - the summer of love!  50 years ago the world was a special place - at least in our memories.  Join VARAC as we celebrate the "summer of fast" with the 38th running of the annual vintage racing festival, the 2017 VARAC VINTAGE GRAND PRIX.
This is the premier vintage racing event in Canada, including classes for Vintage (cars built before 1962), Historic (cars built before 1973), and Classic cars (cars built before 1996), as well as Monoposto and Wings and Slicks racing cars.
We are very pleased (and honoured) to have the Formula Junior Diamond Jubilee World Tour attending our event (http://formulajunior.com/).  Formula Junior is one of the oldest and purest forms of open wheel racing and drivers from all over the world have been celebrating the class by shipping their cars to world class venues - in 2017 on June 15-18 they will be running on the Mosport Grand Prix Track at the Canadian Tire Motorsport Park, as the featured class for our event.
In addition, the Masters Historic Racing group (http://www.mastershistoricracing.com/) will join us for Thursday, Friday and Saturday.  The Masters run historic F1 cars from the 60s, 70s, and 80s.  Thursday there is a single practice session mid-day, Friday practice in the morning and qualifying in the afternoon, and Saturday they will have two races - one in the morning and the feature Saturday immediately following the Opening Ceremonies (scheduled for 12:45).
Sunday morning we'll start the final day of racing with the MG - Triumph Challenge.  All MG and/or Triumph cars are eligible to enter this extra (free) session.
We end the weekend with the VARAC Vintage Grand Prix.  This extra (free) session is open to all vintage and historic cars, and Classic cars under 2500 pounds.  Space is limited to 60 entries so sign up soon!
1st race class entry on or before May 31, 2017 $625. Regular entry as of June 1, 2017 $700.
Optional Thursday June 15 test day $300
Optional Thursday orientation or instructed lapping sessions $300
Off track we have the Steam Whistle Paddock Tour Friday evening, followed by "Kim & Company", a live band taking us back to the Swinging 60s - groovy man!  The paddock tour involves 3 stops in the paddock : the first is for chicken wings (and beer); the second is for submarine sandwiches (and beer) and the third for ice cream (or another beer is you are so inclined).  Sponsored by Steam Whistle Brewing (http://steamwhistle.ca/).  The paddock tour and band are included for a driver and one guest with your entry.
Saturday, as previously mentioned, we have the Opening Ceremonies at 12:45, featuring the Uxbridge Pipes and Drums (http://www.uxbridgepipeband.com/).  The Masters Historic Racing feature race will immediately follow.
Saturday evening we have a dinner/reception in the Canadian Tire Motorsport Park Conference Centre (cash bar).
Off track on Sunday, Fathers' Day, is the ever popular Field of Dreams Car Show and parade laps, as well as the Legends of Motorsport panel lead by Norris McDonald in the Conference Centre.
As always, free weekend camping courtesy Canadian Tire Motorsport Park
 Go to http://varac.ca/vgp for more information.
Questions on the event? Contact Ted Michalos at VGP@varac.ca or call 1-844-214-1892
Event requirements
-       All Drivers must hold a valid competition license with CASC-OR, another organization under ASN Canada, a Vintage Motorsports Council club, or a recognized sanctioning body under FIA, etc. with a current medical date.
-       Entrants that do not hold a Vintage Racing License or have not competed in a Vintage Event are required to participate in the Driver Orientation Program on Test Day June 15, 2017
Canadian Tire Motorsport Park
Bowmanville, ON
More events from this organizer