2017 Thunder On The Arkansas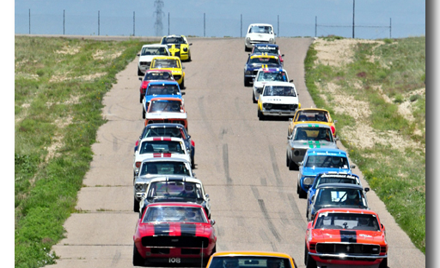 Rocky Mountain Vintage Racing-RMVR
Saturday, Jun 10 — Sunday, Jun 11, 2017
Pueblo Motorsports Park
,
Pueblo

,

CO
Registration closed June 7, 2017 11:59 PM on June 7, 2017 11:59 PM MDT Registration ends June 7, 2017 11:59 PM on June 7, 2017 11:59 PM MDT Registration opens January 26, 2017 12:00 AM on January 26, 2017 12:00 AM MST Registration runs from January 26, 2017 12:00 AM to June 7, 2017 11:59 PM
Another big race weekend is planned for our June event at Pueblo Motorsports Park, featuring the Thunderous Upper Class sports-cars and racing sedans.  The weekend will include:
This will be a three day weekend so plan to come early and stay late:
Thursday move-in the gate opens at noon..  There are no restrictions/ pit space reservations for the drag racers this year, so all open pit spaces are available upon arrival.  
Friday test-and-tune. the gate opens Friday at 7 am. The track will be controlled by track management on Friday, not RMVR.  If you plan to test and tune Friday,  you must register and pay in-advance on-line at Pueblo Motorsport Park's MSR Website.  Track fees are: $150 for full day (8:00 am to 5:00 pm) or $75 for half day (am or pm).  The track will be "cold" from 1200 to 1300 for lunch break.
RMVR Tech and Registration hours are from 2:00 pm to 6:00 pm on Friday and 8:00 am to 5:00 pm all weekend.
Friday Night Drag - Drag Racers move-= in Friday at 4:00 pm and move out after midnight.
Friday evening move-in. There is no gate fee for RMVR participants, so use the password "RMVR" with gate personnel Friday night to avoid the $10 entry fee.
Race Central will be at the Econolodge in Pueblo West (719-547-9400). Discounts not available!
Sunoco Racing fuel will be available all three days (credit cars accepted). Fuel octanes available: 104, 110, 112, 116, methanol (719-641-7736)
On-Site Tire service (720-410-7007) will be on-site during the weekend
This will be the one of the 2017 events where RMVR has a big welcome mat out for racers from Corinthian Vintage Automobile Racing (CVAR).  CVAR is sort of RMVR's twin brother. The cars and run groups are very similar for both clubs, we both adhere to a "as raced in the day" preparation ethic, and the CVAR drivers are, well, like us—wishing to race with the vintage spirit and just have fun. Many of CVAR's finest will be attending this Thunder on The Arkansas event and we welcome them.
The Feature of the weekend will be the Thunderous Upper Class in 1972 Production (and older) including the AP big-block Corvettes, BP GT-350s, Tigers, and E-types, plus the top guns in "Saloon" including A-Sedan Camaros, Mustangs, Cudas, and Firebirds, and the B-Sedan door-slammin' Bimmer 2002s and Alfa GTVs amongst others.  As it was last year, AP, BP, and AS cars will be limited to bias-ply tires and the Feature cars will get an exciting split start.
The traditional track-side party will kick off around 5:00 pm on Saturday.   The barbeque dinner will include open beer and wine "bar".  Because the dinner meal requires a head count several days in advance, guest and crew dinner tickets should be purchased in advance on-line when registering.  As usual, one dinner ticket is included with each entry. Ticket purchases offset the cost of providing complimentary dinners to our track marshals and officials.
Registration Fees:
Entry fee $295.  
Dinner Party Saturday night at the track includes catered barbeque and open bar/ ice bucket
One dinner ticket included per entry, Additional $20 each dinner tickets for crew, family or guests can be purchased when registering.   Additional dinner tickets should be purchased when registering to enable a proper head count for catering.  (If you failed to order enough dinner tickets when registering or are NOT entering the race, additional dinner tickets can be purchased here.)
A cool Event T-Shirt can be purchased when registering.
Live music is planned for the dinner party featuring the Dano Weston Band, so bring your dancing shoes.
Qualified Exhibition cars are encouraged to apply for entry. These are cars "of interest to the vintage racing community" including late model race cars, prototypes, specials nad track prepared super cars. Entry is not guaranteed. Contact the race chairman (720-387-9339) early!
A classic and exotic car presentation will be organized in the shade at the snack bar. Invite a friend to bring a cool car to show and join us for the barbecue dinner. Contact Robert Jimenez at 719-963-7657.
Racers from VMC organizations, especially our friends at CVAR, or any qualified racers from other racing organizations are welcome. We are looking forward to a great weekend and thanks for putting us on your race schedule.
Keith Davidson, Event Chair 720-387-9339
Attention Workers and Volunteers:   If you wish to work this event, simply CLICK HERE to sign up online.