2017 MCO Charity Banquet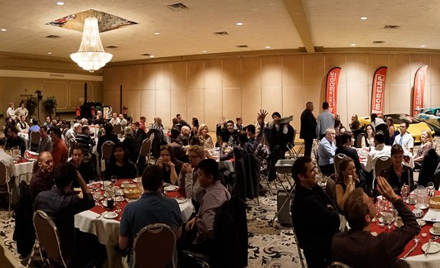 Motorsport Club of Ottawa
Saturday, Nov 18 — Sunday, Nov 19, 2017
Registration closed November 17, 2017 6:00 PM on November 17, 2017 6:00 PM EST Registration ends November 17, 2017 6:00 PM on November 17, 2017 6:00 PM EST Registration opens October 18, 2017 5:00 PM on October 18, 2017 5:00 PM EDT Registration runs from October 18, 2017 5:00 PM to November 17, 2017 6:00 PM
2017 Motorsports Club of Ottawa Charity Banquet
Come join us for an evening of FUN at Tudor Hall.
Continuing from the success of last year's banquet, the 2017 charity banquet will feature:
free parking;
photobooth for capturing zany images with your friends;
silent auction to benefit the Boys' and Girls' Club of Ottawa;
sim rig for those who can't go a single night without some seat time;
an energetic and entertaining DJ & dancing and, most importantly,
your friends from the club's events!
Note: Items below may change throughout the week as our planning team finalizes catering and entertainment schedules
Schedule
5:00 - 7:00 PM – Photobooth, Appetizers, Cash-bar
7:00 - 8:30 PM – Dinner, including Vegetarian and Gluten-Free options selectable when purchasing tickets
8:30 - 1:00 AM – Mingling and dancing...
So get your tickets now, bring your spouse, partner, friends, family, or anyone else looking to have a great time.
Menu - (V)egetarian // (G)luten Free
Appetizers
Glazed Honey Garlic Meatballs
Cocktail Sausage Rolled in Puff Pastry
Assorted Petite Quiches
Cream Cheese & Dill Canapes
(G) Chicken Skewers with Pineapple and Peppers
(V) Tomato Garlic Basil Bruschetta
(V) Phylo wrapped Spinach & Feta Spanikopita
(V) Vegetable Samosa
Main Course
Grilled Breast of Chicken with Roasted Red Pepper Sauce
(V) Eggplant Parmesan
Tickets (Per Person)
Up to and including November 13: $40 + HST for MCO members
Up to and including November 13: $45 + HST for non-members
After November 13: $50 + HST for MCO members
After November 13: $55 + HST for non-members
Available Seats: 150