2017 HSCC Autocross School (and Test & Tune)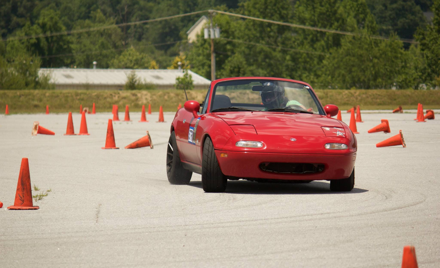 Highlands Sports Car Club
Saturday, April 8, 2017
Jerry Sutton Training Center
,
Franklin

,

NC
Registration closed April 7, 2017 5:00 PM on April 7, 2017 5:00 PM EDT Registration ends April 7, 2017 5:00 PM on April 7, 2017 5:00 PM EDT Registration opens March 25, 2017 12:00 AM on March 25, 2017 12:00 AM EDT Registration runs from March 25, 2017 12:00 AM to April 7, 2017 5:00 PM
This event is for mainly for drivers new to the sport of autocross who are looking for some one-on-one coaching and advise. However, we do need other participants to help run the event, shag cones, etc. Due to this, we have opened the event up to non-Novices as a sort of Test & Tune. Lunch for this event will be provided, as there is a classroom session during that time for the Novices. The plan is to focus on Novice Driver Education first and foremost. The afternoon (starting at lunch) is when we'll open the course up for the volunteers to Test & Tune. This is a good opportunity to mess with shock settings, tire pressures, swap cars with other participants, or just get some practice driving in.
Please sign up under the NOVICE PAX group if you plan on being a student.
Please sign up under the PRO PAX group if you plan on being an instructor AND ALSO SIGN UP ON OUR FORUM.
Please sign up under your normal class (with no extra PAX modifier) if you plan on being present as a volunteer/Test & Tune participant.
The basic overview of the event is:
Novice Walkthrough
Short class on seating position and ergonomics
In-car driving instruction for students
Lunch break with short class on tires, alignments, car modifications, etc
More in-car driving instruction and course open for Test & Tune for volunteers
In the afternoon, we're going to setup the timing equipment and let it start tracking times. We will not be entering classes or numbers and no results will be posted.
Event Schedule:
Registration / Check-In: 8:00 - 9:00 am *
Tech Inspection: 8:00 - 9:15 am 
Novice Walkthrough: 9:15 am
Driver's Meeting: 9:30 am
Start of Driving Exercises: 10:00 am
* Everyone must check-in at the registration table, even if you registered online.
Entry Fees:
HSCC members:  $20
Non-members:  $25
(On-site registration costs an additional $10, regardless of member status. Avoid the fee by registering and paying online right now.)
Becoming a member of HSCC:
Membership in HSCC is not required to attend this school. However, if you think you will continue coming to our events you can click here to join Highlands Sports Car Club online through Motorsport Reg. The process is basically identical to registering for an event. Once your payment has been made, you will be able to register for all our events at the discounted member price. All it takes is 4 events to pay for your membership fee.
If you have any additional questions about our club or our events, please visit our website where you can find answers to the vast majority of your questions. For anyone new to the sport of autocross, we ask that you take a good look at our Novice Guide. And finally, if you still have questions after viewing the above online documentation, please don't hesitate to ask for help by using the Contact Registrar link on this site, or the contact info on our website.