The 2017 Food Drive (Charity Road Rally)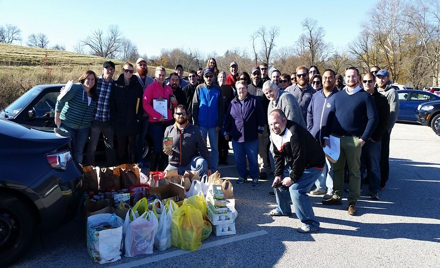 SCCA - Philadelphia Region
Saturday, November 11, 2017
Joseph E Hanusey III Community Park
,
Doylestown

,

PA
Registration closed November 9, 2017 5:00 PM on November 9, 2017 5:00 PM EST Registration ends November 9, 2017 5:00 PM on November 9, 2017 5:00 PM EST Registration opens October 10, 2017 8:00 AM on October 10, 2017 8:00 AM EDT Registration runs from October 10, 2017 8:00 AM to November 9, 2017 5:00 PM
This charity road rally will take you through some amazing back roads just in time to put you in the spirit of giving.  Just as we did in 2012, 2014, 2015, and 2016 your entry fee will be 10 donation-appropriate food items.  The more you donate past the registration fee, the better your drive will be scored!
This year's beneficiary will be A Woman's Place.
Most Needed Items & Collection Ideas
FOOD BANK DONATIONS NEEDED:
Holiday Specific (they have very limited fridge/freezer space so they are specifically looking for dried/canned goods of the following):
· Stuffing
· Mashed Potatoes
· Pumpkin filling
· Apple/Cherry/Blueberry pie filling
· Pie crusts
· Cranberry Sauce
· Gravy
· Cream of Mushroom soup
· Mac and Cheese
· Sweet potatoes/yams
· Brown sugar
· Marshmallows
· Carrots (canned)
· Green Beans (canned)
· Corn (canned)
· Grocery Shop Gift Cards (so families can pick out their own fresh items and turkey)
Other General Food Needs:
· Peanut Butter
· Jelly
· Tomato Products (sauce, diced, puree etc.)
· Cereal
· Oatmeal
· Canned fruit (mixed fruit, pineapple, mandarin oranges)
· Mac and Cheese
· Kids school snacks
· Canned soup
The A Woman's Place is unable to accept: • Open packages • Homemade food items • Items with "expired" dates• Items in glass jars
Exceeding the 10 item registration minimum will benefit your score!
This will be a GTA style rally using our usual general instructions
Registration will open at 10:30 AM, with drivers' meeting at 11:25 a.m., and the first car will be off at approx. 11:45 AM. 
We'll be wrapping things up in the Bucks County area for lunch and awards.  The first cars should get to the end point around 2:00PM, give or take a half hour.  We will offer novice and experienced classes as usual.  If you've done more than 2 Philly SCCA region rallies in the last 3 years you should consider the experienced class.
Please note that this rally will contain some unpaved surfaces.  There should be no significant issues with ground clearance or road damage.  You may want to leave your Maclaren at home for this event but those of you in lowered vehicles should be fine.