2016 GGLC Autocross Points Event 7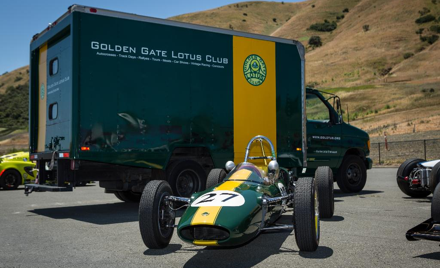 Golden Gate Lotus Club AutoX
Sunday, October 16, 2016
Marina Airport
,
Marina

,

CA
Registration closed October 12, 2016 11:59 PM on October 12, 2016 11:59 PM PDT Registration ends October 12, 2016 11:59 PM on October 12, 2016 11:59 PM PDT Registration opens September 28, 2016 8:00 PM on September 28, 2016 8:00 PM PDT Registration runs from September 28, 2016 8:00 PM to October 12, 2016 11:59 PM
The GGLC's 2016 classes are based on car model and tire compound. An indexing system applies to the Lotus classes to compensate for car variations. Use the GGLC class index finder at http://www.gglotus.org/ggautox/classify.html to calculate your class index points. If you want to compete for season points in a non-Lotus car you need to know your SCCA Solo (autocross) class. Use http://moutons.org/sccasolo/index.shtml for reference.
First 5 morning runs count towards the point series for each GGLC club member. 1 second penalty  per cone hit. Afternoon are timed fun runs.
This event takes place at Marina Airport, California.
IMPORTANT!
We will feature the GGLC Annual BBQ celebration lunch! Menu includes Tri tip, Teriyaki Chicken, Green salad, Veggie, Chili & French Bread. There will be a vegetarian option. As always lunch is included for entrants. You can add a lunch for $15 for a guest.
FUN! CAR COSTUME & HELMET CONTEST WITH BIG PRIZES!
We will have an Car Costume Contest with judging during the lunch break. Two classes - Lotus class and Non-Lotus class. Dress up your car and win a big prize!!! Best car costume will get a $50 gift card plus a gift pack from Dietsch Motorsports and TrackSpec.
Plus... decorate your helmet and wear it during your morning runs (you need to see out of it...) and we will vote for the best! Winner will get a $50 gift card!
Check the GGLC site for more information. 
You can join Golden Gate Lotus Club as part of this event registration.
Note - Only  participating GGLC members can register during first week of registration. During this first week if you can not proceed to registration (past this page) and you believe you're a club member in good standing (membership dues are paid) this means your club membership on this site is not confirmed. Send us email to clear this up.
You can follow this link to join Golden Gate Lotus Club. If you decide to join the club to be able to register for our events early remember you need to do this in advance because membership application processing takes time.
Club members are also given preference on the waitlist.
Note- You must be club member in good standing prior to event registration opening to be eligible for these privileges.
Event fee is $65 for club members and $75 for others and includes one free lunch order. There is a $10 discount if it is your first autox with the GGLC.
After first week (reserved for existing club members) of registration any non-member can join the club by choosing GGLC($65) + Membership($25) options on sign-up form.
You will be asked for a membership number during the event registration process. Simply type in "N/A" and continue.
See you at the Autocross!