Oil Recycling Rocks Championship Regional 11 & 12
Continue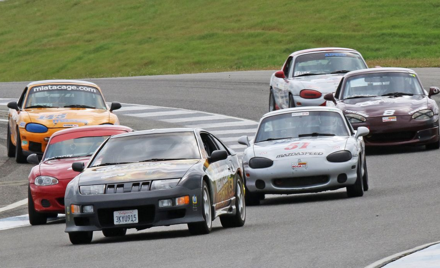 Registration closed September 21, 2016 12:01 PM on September 21, 2016 12:01 PM PDT Registration ends September 21, 2016 12:01 PM on September 21, 2016 12:01 PM PDT Registration opens August 8, 2016 12:00 AM on August 8, 2016 12:00 AM PDT Registration runs from August 8, 2016 12:00 AM to September 21, 2016 12:01 PM

 

 

 

San Francisco Region SCCA

Oil Recycling Rocks

Championship Series Double Regional

Thunderhill Raceway

September 24-25

Event Schedule Revised Aug. 29

Regional Races 11 & 12

Entry Fees:

Double Race $465

Single Race $315

Dual (extra class, same driver, all or part of weekend)  $199   


Enter by Thursday, Sept. 15 to retain your permanent number and avoid the $30 late fee.

Online entry closes Wednesday, Sept. 21 at 12 noon; after that you will need to enter at the track and pay the $50 post entry fee.

CAR NUMBERS are confirmed Friday afternoon the week before the race. 

Enter Now, Pay Later!  SFR will charge your credit card AFTER the race weekend. When you register for a race, you enter your credit card information; after the race weekend, we actually process the card. Now there's no money barrier to entering early, ensuring you retain your all-important permanent number!

Thunderhill Test Day on Friday, Sept. 23 - www.thunderhill.com

If you have questions about the event, please contact the SF Region Office: 888-995-7222 or office@sfrscca.org
Novice Awards in each class
The first Novice in each class on Saturday will receive a Chuck Koehler photo award for "Highest Placed Novice." Chuck Koehler is the SFR Official Photographer. On Sunday, the highest place Novices will receive the event trophy.
Six Groups:
GROUP 2............FA, FM, FB, FS, P1, P2, FE, FM, S2, DSR, ASR
GROUP 3............. ITE, SS, GT1, GT2, GT3, GTA, SP, EP, N3, T1, T2, T4, PC, E46
GROUP 4............. FF, CF, FV, FST,  F5, FC
GROUP 5............. ITS, ITA, ITB, ITC, ITX, FP, HP, GTL, STL, STU, E30, B-Spec, SMG, AS, ITR, T3
GROUP 6............. SRF, SRF3
GROUP 7............. SMT, SSM, SM
If you do not already have a MotorsportReg account, please follow the steps below to create your account this first time. Next time you enter, just log into your account and future entries for SFR events will be quick and painless!
If you do not already have one, create an account on MotorsportReg.com after reading these steps.
Once logged in, click "My Account" in the top right
Review your vehicle(s), making sure to enter your permanent/preferred numbers and your transponder number
Enter your medical information for the Ambulance/Life Support crew.
Now come back to this page and enter the event and pay online.