NWMS -- NORTHWEST GRAND PRIX
Continue
Registration closed May 31, 2014 11:59 PM on May 31, 2014 11:59 PM PDT Registration ends May 31, 2014 11:59 PM on May 31, 2014 11:59 PM PDT Registration opens March 23, 2014 12:00 AM on March 23, 2014 12:00 AM PDT Registration runs from March 23, 2014 12:00 AM to May 31, 2014 11:59 PM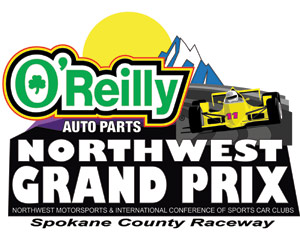 NORTHWEST GRAND PRIX
MAY 30, 31 & JUNE 1, 2014
Spokane County Raceway
RACE
RACE
RACE!
ICSCC's ORIGINAL TRIPLE-RACE WEEKEND
Championship races will be held Friday, Saturday and Sunday. All 3 races are sanctioned by the International Conference of Sports Car Clubs, under ICSCC 2014 Competition Regulations as Championship Races, organized by Northwest Motorsports and held at Spokane County Raceway.
NWMS Race chairman Jay Sharp can be reached by email: Race Chairman.
ENTRY FEES  (ALL FEES INCLUDE APPLICABLE TAXES)
 
1 DAY
2 DAY
3rd DAY
1 GROUP
$265
$495
FREE with 2 race entry
2 GROUPS
$395
$690*
FREE with 2 race entry
 
   * This is a packaged price for 2nd Group (1, 2 or 3 Races)

 

NOVICE

1 or 2 Novice Races (Fri,Sat) - $265  (First upgrade race: FREE)
Sunday additional race ONLY $100! (only If, upgrade on Friday)
(Upgrade Friday, Free Race Saturday, $100 Sunday Race)

Novice, only register for novice races.
Addtional senior races can be added at the event
Late Fee: No Late Fees
SPECIAL RACES
1 Hour Enduro    ----------------------------- Entry fee $175
Hare and Hound Challenge   ----------- Entry fee $55
Entries open to cars from all ICSCC race groups and all licensed (ICSCC, SCCA, etc.) drivers.
Other drivers accepted based on license director approval.
Rules for special races in supplemental information.
NOTE:  NWMS reserves the right to limit or cancel races based on parpication. Safety First!
Thank you for your support!!!
EVENT HOURS
 
RACE REGISTRATION
TECH INSPECTION
 
 
 
Thursday May 29th
2 pm - 8 pm
2 pm - 8 pm
(Race #3) Friday May 30th
8 am - 8 pm
7:30 am - 8 pm
MANDATORY GROUP 3
(Race #4) Saturday May 31st
8 am - 6 pm
7:30 am - 6 pm
MANDATORY GROUP 4
(Race #5) Sunday, June 1st
8 am - 11 am
7:30 am - 11 am
MANDATORY GROUP 5
 
Registration / Event Inquiries
Vechicle Tech Questions
 
Mandatory tech inspection can be done anytime during the race meet, prior to your first on-track session.
Complete racing schedule