MCSCC OPEN TRACK HPDE - 150 Minutes du Man
Continue
Registration closed September 14, 2016 9:59 PM on September 14, 2016 9:59 PM CDT Registration ends September 14, 2016 9:59 PM on September 14, 2016 9:59 PM CDT Registration opens August 16, 2016 12:00 AM on August 16, 2016 12:00 AM CDT Registration runs from August 16, 2016 12:00 AM to September 14, 2016 9:59 PM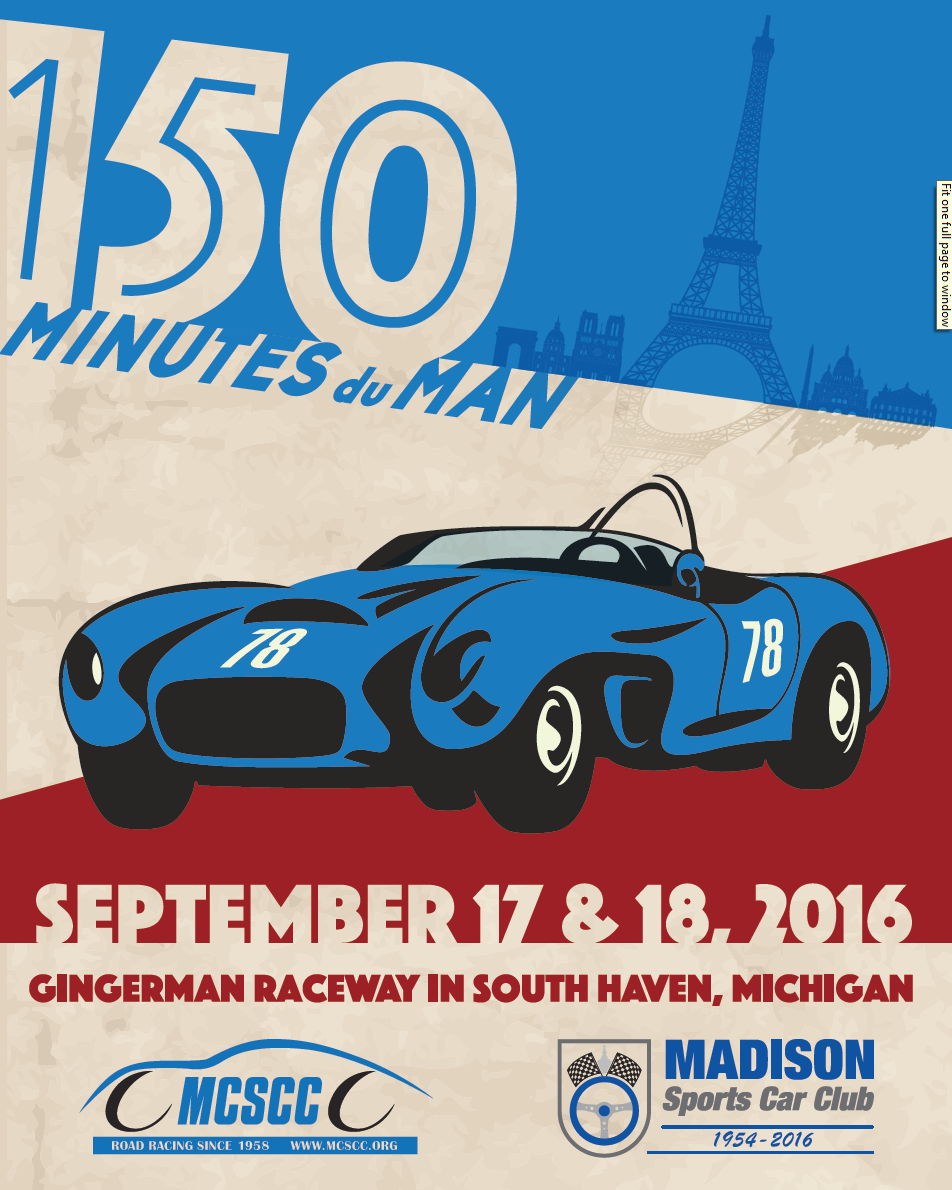 Madison Sports Car Club (MSCC) and Midwestern Council of Sports Car Clubs (MC, MCSCC) are proud to present the "150 Minutes du Man" HPDE, double race and enduro at Gingerman Raceway! For full info and schedule, please download the entry packet: Gin 2016 Entry Form 1.1.pdf
20 YEARS OF MC HISTORY BUT NEW ASPHALT!
GingerMan Raceway is celebrating its 20th Anniversary this year! Time sure flies, Midwestern Council has been there since T&S was in an old schoolbus on one of the sand hills! And this year we return to a completely re-paved track: you can see pictures of last year's full resurfacing at http://www.gingermanraceway.com/about-repave.html
HIGH PERFORMANCE DRIVER'S EDUCATION SESSIONS!
On Saturday, HPDE/ Lapping Sessions provide a great way to get on track with low risk and low cost. Try your street or autocross car on the wide open racetrack with an hour of track time! No competition license or competition harness is required, and HPDE insurance is available from LocktonMotorsports.com. For even more track time, sign up for the Friday night practice put on by GingerMan Raceway, see https://gingerman.configio.com/ShoppingCart.aspx?com=detailview&iid=214&cid=260.
DOUBLE CLUB RACES!
Once again this year we have Double Wheel to Wheel Races on Saturday and Sunday. If you haven't been to GingerMan lately, we've doubled your motivation! How does twice the track time and two shots at MC championship points sound? If that's still not enough seat time, come early for Friday night open track and stay late for the Enduro Sunday afternoon.
RACE STAFF DESPERATELY NEEDED!
We have all the usual worker goodies, free camping, free meals and $400 in gas card giveaways. After running on Saturday, stick around Sunday to help out on a corner for the second-best seat in the house!
PLUS THE USUAL PARTY!
Following the race schedule on Saturday night, we'll be cooking up another great Continental-flavored dinner. All drivers, staff and guests are welcome. FREE to all!
HPDE Entry Fee: $120