2016 Spring Grand Prix
Continue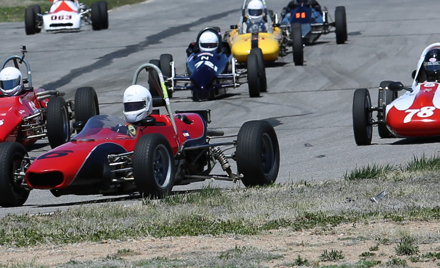 Registration closed May 11, 2016 11:59 PM on May 11, 2016 11:59 PM MDT Registration ends May 11, 2016 11:59 PM on May 11, 2016 11:59 PM MDT Registration opens January 26, 2016 12:00 AM on January 26, 2016 12:00 AM MST Registration runs from January 26, 2016 12:00 AM to May 11, 2016 11:59 PM
It's time to Spring forward into racing season again! RMVR is back at our home track for the annual Spring Grand Prix race at High Plains Raceway.
We've all said it: "I'll work on my car…next weekend." and then buried it under the car cover for six months. Well, that weekend has arrived. Time to throw off the cover and hit the track! Always a great opener for our series, it's also a perfect chance to shake down and test your car to make sure it and you are ready to compete this season. Your fellow friends and racing family want you to join the in fun at High Plains Raceway.
Bonus:  Precision Grads Get Their Own Grid  
Sorry, canceled 5-9-2016 for lack of sufficient entries
At our opening event, all RMVR Precision School graduates are invited to have their own run group at this event. The rules for accepted
street cars is the same as it was for the School weekend and track rules also the same (e.g. passing only in specified straights and required "wave byes.").  There's a May 7th deadline for this decision, so register now to be sure there are enough cars to create this special run group.   A minimum number of Precision entrants will be required in order to have a dedicated run group so enter early. Online registration can be used.  Use the special "RMVR PrecisionGrad Registration" entry ($225).
Extra Bonus: Karaoke "Car Pool" Saturday Night!
We're throwing in even more fun Saturday evening. As a special "Welcome Back To The Track" We're doing some Car Pool Karaoke- James Corden style! You've all seen the CBS late night host sing-along with his favorite artist in a minivan. Now it's RMVR's turn. We'll team up two singers in a car to do their favorite karaoke songs. Ok- the car won't be driving but we better see it shake!
Run Groups This Weekend
Group 1: RMVR Small Bore Production Cars
Group 2: RMVR Open Wheel Formula Cars & Sport Racers
Group 3: Precision Lapping Run Group – Graduates of RMVR's Precision School in their own street cars.  
Group 4: RMVR Formula Vee
Group 5: RMVR Mid & Big Bore Production Cars
Saturday May 14th, 2016
8:00 am- Driver's Meeting.
8:45 am- Practice/Qualifying sessions for RMVR Competition Groups.
RMVR run groups will be full competition races and Group 3 will be lapping sessions.
Other Saturday Activities
Worker rides during lunch break. Also an opportunity for RMVR racecars and precision cars to do lapping on the track and provide rides for Corner Workers.
After the last race, let the party begin! The best opportunity to meet fellow racers and drivers.
Car Pool Karaoke –start looking for your singing partner now!
Sunday May 15th, 2016
7:00 am- Chapel
8:00 am- Driver's Meeting (if necessary)
8:30 am- Warm Up session for RMVR Run Groups
RMVR run groups will be full competition races and Group 3 will be lapping sessions.
Worker rides during lunch break.
Registration Fees:
RMVR or other VMC members: $275. 
Special Precision Graduates Run Group, the fee is only $225 (Subject to a minimum number of registrations).
All other entrants: $275.  RMVR Membership is required.  If entrant is not currently a member, the registration process will add $75 for 2016 RMVR membership.